MODEL 8365-267

LiftMaster Premium Series 1/2 HP AC Chain Drive Garage Door Opener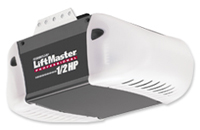 RAIL SIZES AVAILABLE:

Standard Features:

 P3 Motors™ are reliable, durable and powerful – designed specifically for your needs.
 1/2 HP AC motor with industrial-strength chain drive provides steady performance and lifting power.
 Energy-efficient operation consumes up to 75% less power in standby mode.
Included Accessories:

Security+2.0 3-Button Remote Control
Wireless Keyless Entry System
Multi-Function Control Panel
Safety Features:

Security+ 2.0® safeguards your household – with every click a new code is sent to the garage door opener so that the door opens only for you.
PosiLock® locks down your garage door by electronically monitoring against a forced opening.
Alert-2-Close warning system provides audible and visual warnings when the garage door is about to close when using MyQ Technology.
The Protector System® has safety sensors that project a light beam across the garage door opening, automatically reversing the door if anything interrupts the beam.
Warranty:

Lifetime motor warranty
1-year parts warranty
This model subject to availability from manufacturer. Manufacturer responsible for any alterations, changes, deletions made respective to this model.