MODEL 8360
Premium Series DC Battery Backup Chain Drive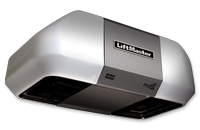 RAIL SIZE AVAILABLE: 7', 8' & 10'
Battery Backup Features:
12VDC battery is always charged and ready
Simple battery installation (through the access door behind the light lens)
Audible signal alerts you when the battery in use
Safety and security features still operate, ensuring your family is still protected in a power failure
Backup power will operate the garage door opener for 40 full cycles within a 24-hour period* (fully charged batteries at 72º F)
Standard Features:
Industrial-strength chain drive system
Energy-efficient operation consumes up to 75% less power in standby mode
Equipped with MyQ® technology that lets you monitor and control your garage door and house lights remotely by using a computer or smartphone
Internal electronic limit settings and electronic/internal force sensing
Auto force – the garage door opener adapts to weather and changing environmental conditions, meaning less maintenance required
Timer-to-Close allows the door to automatically close after a pre-programmed number of minutes (need to purchase additional accessories to use this feature)
The Smart Garage Door Opener® lets you electronically program security codes from the Multi-Function Control Panel or the powerhead
Quick-Connect™ terminals for faster wire installation
200 watts of light with adjustable light time delay; dual non-yellowing hinged light lenses for easy bulb replacement; CFL bulb-compatible designThis model has earned the Good Housekeeping seal.
Safety Features:
The Protector System® projects an invisible light beam across the garage door opening and automatically reverses the door if anything interrupts the beam while door is going down
PosiLock® stops intruders by securely locking the garage door when it is down
Alert-2-Close warning system provides UL325-compliant audible and visual warnings that the garage door is about to close when using the Timer-to-Close, or remote closing features (Alert-2-Close applications are for sectional doors only; not one piece doors)
Manual release handle in case of power failure
Included Accessories:
3-Button Visor Remote Control (893LM)
Motion-Detecting Control Panel (886LM)
Battery Backup (485LM)
Warranty:
Lifetime motor warranty
1-year parts warranty
1-year battery warranty (485LM)
To reduce the risk of injury to persons – When the LiftMaster® Internet Gateway is used with garage door openers, the operator must be installed with sectional doors.

This model subject to availability from manufacturer. Manufacturer responsible for any alterations, changes, deletions made respective to this model.