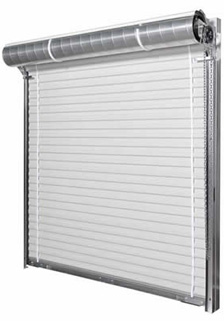 Commercial Sheet Door
The Model 1000 commercial door is easy to install and provides tremendous value. Many components are pre-assembled and are made of high quality materials. Brackets, gears, chains, and a tensioner are all in place which makes this door a solid investment for commercial or industrial usage. General and more specific features of the door can be found below:
A drum wheel that is 9 ½" in diameter
Maximum opening size of 12' wide by 14' high (168 sq.ft.)
A reduced, right hand only chain hoist
Push-up, hand chain and internal electric operations
Features Include
Curtain
Grade 80 steel
26-gauge galvanized corrugated steel
20 standard colors (special colors upon request for a nominal upcharge)
Wash coat over primer interior side
Super Durable Polyester paint coatings, which are corrosion resistant
40-year film integrity warranty — up to 25-year chalk and fade
Flexible nylon wear strips
Bottom Bar
2" by 1 ½" galvanized angle
24 gauge acrylic-coated galvalumed roll formed steel
Stainless steel bolts
Bulb astragal (Durometer 75)
Axle/Torque Tube
Oil tempered torsion springs conforming to ASTM A229
Low friction, grease-filled steel ball bearings staked in each drum
18-gauge, 9 ½" diameter galvanized drum
26 gauge spiral torque tubing that houses axle assembly
Guide
Vinyl guide wear strip
16 gauge galvanized
Bolt on head stop ¼" thick steel
Pre-punched for lock
2 ¼" guide depth
Universal jamb mount
Hardware
Bottom bar mounted 12 gauge slide locks – 2 per door
Bottom bar mounted 16 gauge step plate – 2 per door
Ratchet tensioner device
12 gauge door mounting brackets
For more information, download our Model 1000 brochure or view the door's technical information.
Control Accessories and Options
Options
Top draft stop
Side draft stop
Insulation Series 1000i (R-value 4)
Header seal
Chain hoist 4:1 reduction
Internal electric operator
Hood
Stainless steel mini latch