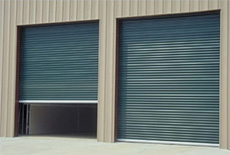 Commercial Sheet Door
The Model 2000 commercial sheet door is one of our highest selling doors. Sold with a one year warranty, it is built with superior materials that will provide individuals with years of service. General and specific features of the door are as follows:
A 12" drum wheel
Push-up, hand chain and electric operations
Maximum opening size of 12' wide x 18' high (216 sq.ft.)
Features Include
Curtain
26-gauge galvanized corrugated steel
Grade 80 galvanized steel
20 standard colors (special colors upon request for a nominal upcharge)
Super Durable polyester paint coatings, which are corrosion resistant
Wash coat over primer interior side
40-year film integrity warranty — up to 25-year chalk and fade
Flexible nylon wear strips
Bottom Bar
24 gauge acrylic-coated galvalumed roll formed steel
2" x 1 ½" galvanized angle
Bulb astragal (Durometer 75)
Stainless steel nuts and bolts
Axle/Torque Tube
1-5/16" O.D. steel axle, 14-gauge
Oil tempered torsion springs conforming to ASTM A229
16-gauge, 12" diameter galvanized drum
Low friction, grease-filled steel ball bearings staked in each drum
26 gauge spiral torque tubing that houses axle assembly
Guides
16 gauge galvanized
Bolt on head stop ¼" thick steel
2 ¼" guide depth
Pre-punched for lock and attachment bolts
Vinyl guide wear strip
Universal jamb mount
Hardware
Bottom bar mounted 10 gauge slide locks – 2 per door
Bottom bar mounted 16 gauge step plate – 2 per door
12 gauge door mounting brackets
1-5/16" tension holding device


---
Visit our technical information page for more details on how the Model 2000 door is manufactured.
Control Accessories and Options
Options
Insulation Series 2000 I (R-value 4)
Top draft stop
Side draft stop
Header seal
Chain hoist 5.7:1 reduction
Electric operator
Vision panels (17"x 5")
Hood
Steel mounting plates
Stainless steel mini latch